Acceler8
Apple are clever sausages
Updated: Apr 7
My boss just gave me a shiny new laptop.
Wait, what?
Why has Apple changed the chargers again?
Damn Apple you are such clever sausages, you are always changing.
I just wish the Hotels could keep up and change the clock radios that still have Apple iPhone 4 chargers, I mean come on hotels! But now I'm annoyed, why though?
I guess I'll eventually stop moaning about it.
Oh yes "thank you boss for my shiny new laptop, I promise I'll use it to create some magic."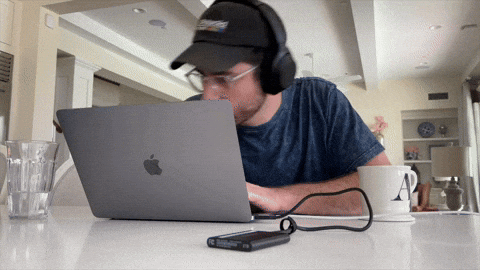 What do humans do when confronted with change? Most of the time, depending on the type of change, there is a slight resistance and we find ourselves saying, "but why?"
That right there is your anger or denial stage. That was me when I realised Apple changed things up once again. "Why the hell do they keep doing this," I said out loud. Shortly after I progressed to a stage known as exploration by saying "I guess I'll stop moaning about it".
What comes after exploration? That would be acceptance. We all eventually get there, but we can also slip back at any time when confronted with change. I have this mate that is not human. Well, he is human, he just reacts to change better than anyone I have ever met. Honestly, you could say to him "your house is on fire" and he'd reply, "oh that's alright, I'm insured, I'll just get a new one".
Change will happen whether we want it to or not and can often come out of the blue. If I asked you to write down a list of all the changes you have experienced over the past year, how long would your list be? You'd probably run out of ink. So, how has this made you feel? Has constant change affected you in any way? I know I couldn't have predicted any of the past 2 years, however, I am even more resilient as a result.
This experience and resilience have allowed me to process and accept change a lot quicker than I did previously. I'd probably be slightly more alarmed if my house were to catch fire, however, I'd find myself in that exploration stage sooner by asking myself, "okay, it's happened, what can I do?"
So, in this new world how will you react to constant change? Will you stay in shock, denial, or anger? Or will you have the emotional intelligence to stop, think, process, and begin to ask the question, "what can I do?". One of our greatest gifts is the gift of choice and my choice is to spend as little time in anger and denial as possible. Acceptance is formed through exploration.
At Acceler8 we welcome change and face it head-on.
We have the experience, knowledge, and skills as C-Me Activators in Behavioural Profiling to help you through it. We see ourselves as guides in helping people unlock their potential. Part of the behavioural profiling explores our resilient strengths and how we react and adapt to change.
Want to know more? Reach out to me anytime aaron@acceler8training.co.uk and I can explain to you more about how you can increase your resilience.
Happy exploring.
^Aaron